Laparoscopy has evolved over the last decade and has become one of the most popular minimally invasive surgeries for abdominal, intestinal, and pelvic treatments. During laparoscopy, the surgeon has more control and vision thanks to this modern surgical technology.
To accomplish this advanced surgical technique, the surgeon must complete intensive training and have years of experience. Dr. Christopher SK, a renowned GI laparoscopic surgeon in Tirunelveli, has over ten years of expertise in laparoscopic and minimally invasive procedures.
​Dr. Christopher SK attends patients at BariOSS Clinic & BariOSS Centre. It is a surgical specialty centre that focuses on treating gastrointestinal, bariatric, metabolic, morbid obesity, and obesity conditions. It is the only bariatric clinic of its kind in South Tamil Nadu.
Dr. Christopher SK has performed hundreds of laparoscopic surgery in Tirunelveli with exceptional precision and success. Moreover, Dr. Christopher SK is skilled at performing modern and result-oriented bariatric and laparoscopic surgery in Tirunelveli.
First, let's understand,
What is Laparoscopic Surgery?
Laparoscopic or keyhole surgery is a cutting-edge surgical procedure. It helps examine and repair diseased gastrointestinal organs. During laparoscopy, the surgeon may take biopsy samples. It is a low-risk, minimally invasive technique that necessitates a few small incisions ranging from 0.5 to 1 cm in length. On the other hand, open surgery involves making a large incision to operate.
A laparoscopy entails the use of a laparoscope to examine the abdominal organs. A laparoscope is a large, narrow tube having a front-mounted light and a high-resolution camera. The tool is introduced into the abdominal wall through an incision. The camera delivers images to a screen as it goes along.
Let's discuss,
How is Laparoscopic Surgery Performed?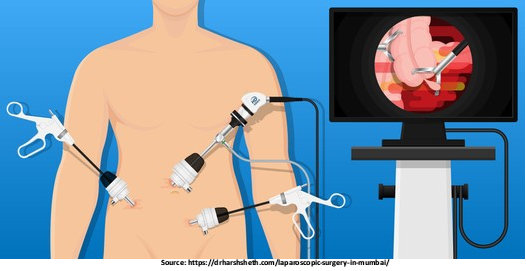 Surgeons perform diagnostic laparoscopy when non-invasive methods such as ultrasound, CT scan, and MRI scan fail to diagnose and identify the root causes of the disease.
First, the surgeon inflates the abdominal cavity with carbon dioxide gas to give working and viewing space. Then, the surgeon places trocar or tubular instruments into the incisions. Next, the surgeon passes a laparoscope through the incisions.
On the monitor relayed through the high-resolution laparoscope, the surgeon can see detailed images of the abdomen. It enables the surgeon to operate more precisely and with fewer incisions.
​Let's understand,
Which Types of Surgeries Can Be Performed Using Laparoscopy?
Dr. Christopher SK is a highly skilled laparoscopic surgeon in Tirunelveli. He is an expert in the following laparoscopic procedures:
1. Bariatric surgery – Sleeve gastrectomy, mini-gastric bypass, Roux-en-Y gastric bypass, and revision bariatric surgeries.
2. GI surgery – Hiatal hernia repair, Fundoplication, Appendicectomy, Intestinal Resection & Anastomosis, Duodenal perforation repair, other abdominal and oesophageal surgeries.
3. Hernia surgery- Inguinal Hernia( TAPP & TEP), Umbilical Hernia, Femoral Hernia, Incisional Hernia, Epigastric Hernia & Diaphragmatic Hernia.
4. Colorectal surgery – Diverticulitis surgery, hemicolectomies, rectopexy, stoma creation and revision, colorectal cancer surgery, anterior resection, and APR.
5. HPB surgery – Cholecystectomy, hydatid cyst surgery, cystogastrostomy, surgery for acute or chronic pancreatitis, and surgery for gallbladder stones, bile duct, liver, and pancreatic tumours.
6. Other Surgery- Transoral Laparoscopic Thyroid Surgery, Laparoscopic Varicocele Surgery, Gynaecological Lap Surgery
Let's know,
What are the Benefits of Laparoscopic Surgery?
Dr. Christopher SK, a proficient laparoscopic surgeon in Tirunelveli, always educates his patients about the benefits of laparoscopic surgery to make an informed decision.
The following are some of the advantages of laparoscopic surgery:
· Minor incisions
· Less blood loss
· Lower risk of scarring and infection
· Minimal pain and discomfort
· Faster recovery
· Shorter hospitalization
What are the Risks Associated with Laparoscopic Surgery?
Complications associated with anaesthesia, infection, and bleeding are all potential risks of laparoscopic surgery. Severe complications though uncommon, include:
Injury or damage to the blood vessels, intestines, bowel, bladder, or abdominal organs.
Nerve injuries
Allergic reactions
If you have any gastrointestinal issues or doubts about laparoscopy , don't hesitate to contact Dr. Christopher SK, a leading gastroenterologist in Tirunelveli, for the best treatment options.